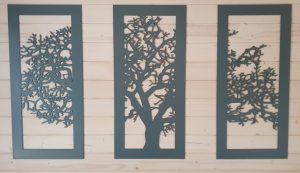 We have two larger sections of wall in the main living area in the Tiny and to begin with, we were exploring lighting options to go above the sofa. This build is so unique that your average reading lights just aren't right for it, so we started to look at more bespoke options.
Whilst flicking through Etsy.com, I discovered a piece of wall art that fitted the brief exactly. The idea was to get this made and back it with white fairy lights so that it created light for the space. It wasn't until we had it delivered that we found that we much prefer the art on the wall as it is.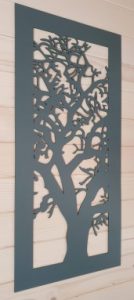 What we found was the 'Tree of life' and the maker was OrnamentiPL a lady called Magdalana who lived in Poland. For those unfamiliar with the 'Tree of Life', it is a symbol of a fresh start on life, positive energy, good health, and a bright future. As a symbol of immortality. A tree grows old, yet it bears seeds that contain its very essence and in this way, the tree becomes immortal. As a symbol of growth and strength. Not only was it being made in the country that the tiny was being built, it stood for everything that we believed that this lifestyle would bring us. To tie in with the sofa, I had it painted in gray and I am sure you will agree, it really does add something special to this room.